We live in a world where digital marketing and advertising have become the dominant model for businesses of all sizes. With the emergence of the Internet, digital marketing strategies such as social media marketing, search engine optimization (SEO), and email marketing seem to reign supreme at first glance. If you look a little closer, however, you'll easily see that more traditional advertising tactics such as print advertisement still have their place in the marketing world. In fact, statistics show that 70 percent of Americans still prefer to read on paper, 67 percent prefer printed materials over digital, and 55 percent of all consumers trust print marketing more than any other advertising method.
Although print marketing is still an incredibly effective form of advertisement, it still takes a strategic and expertly designed piece of print to inspire your audience to engage with your business. So what makes a print ad great? Today, Davant Indy will be showing you our top 10 picks for the best print ads of all time. Use these stellar examples of print marketing to inspire you as you work to create a piece of print that boosts sales, inspires customer loyalty, and increases brand awareness.
1. Pedigree: "A Dog Makes Your Life Happier. Adopt"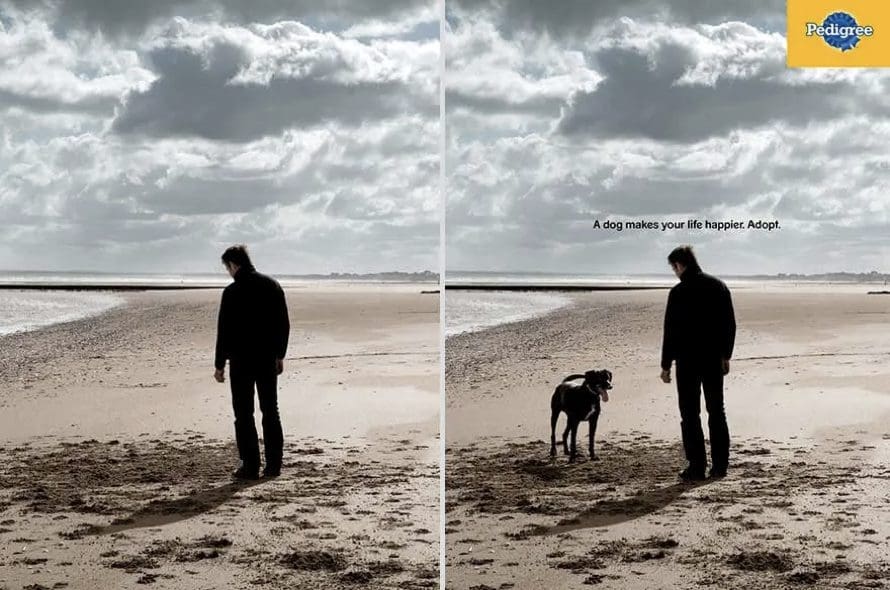 We've all heard the popular phrase "a picture is worth a thousand words," and this effective print ad from Pedigree proves it. This advertisement uses the powerful comparison of two images that are nearly identical in some ways, but where they differ sets the tone for the entire print ad. In the first picture, we see a man standing on an empty beach. In this image, the man seems sullen, and a feeling of loneliness radiates from the picture. Compare the emotion this picture elicits with the picture on the right. Nothing about the image has changed outside of one addition: a tail-wagging dog with the simple yet powerful phrase, "A dog makes your life happier. Adopt."
This print ad is effective because it creates emotion while prioritizing simplicity. It's difficult to compare the images and not think about the happiness that man's best friend inspires in us, and that's exactly the message this advertisement was designed to get across.
2. Chupa Chups: "Sugar-Free Lollipops"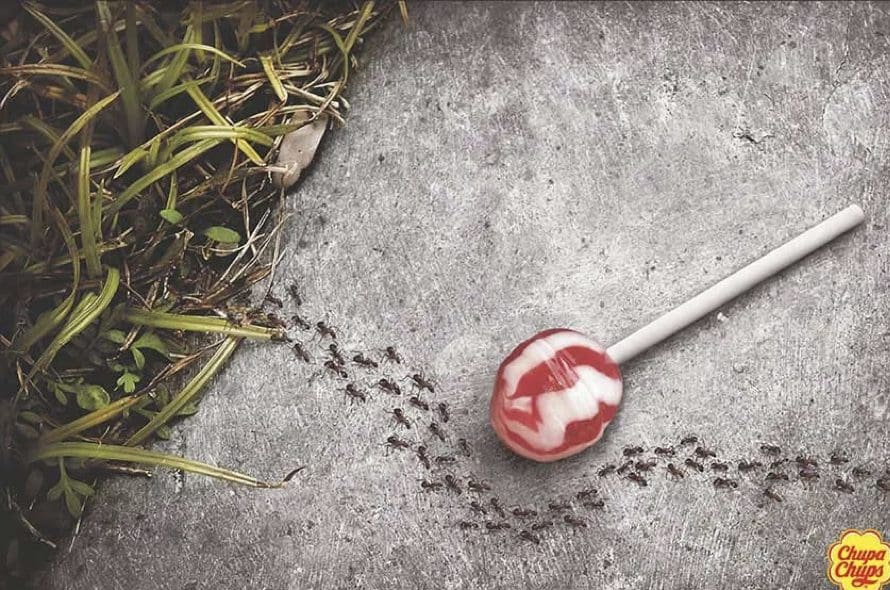 Chupa Chups is a widely recognizable brand best known for its lollipops. When the company decided to follow the growing marketing trend of sugar-free lollipops, they knew they would have to create an advertisement that would effectively spread the word about their newest product. Again, much like the advertisement from Pedigree in our first example, Chupa Chups is aware that sometimes all it takes is powerful imagery to get your point across. In this advertisement, ants take a long path to avoid a lollipop, and this isn't something you'd typically expect to see from a company like Chupa Chups – And that's exactly why it works.
3. Burger King: "Plant-Based Whopper"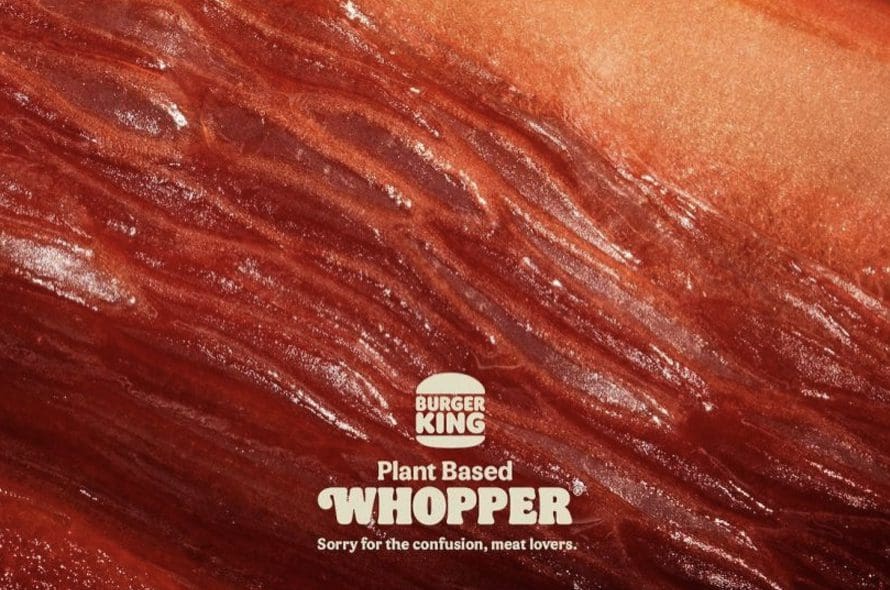 At first glance at this print advertisement from Burger King in 2022, you quickly assume you're looking at a macro close-up of red meat. However, this image is anything but. No, that's beetroot, peppers, and radicchio. That's right, this is Burger King's plant-based whopper, and this genius print advertisement is strategically designed to make you do a double-take.
This print advertisement is self-aware, sporting the clever tagline "Sorry for the confusion, meat lovers," and you wouldn't know you're looking at a plant-based product at first. That's exactly the point. In an effort to convey that their new plant-based whopper looks and tastes just like regular meat, Burger King is cleverly persuading their audience (comprised mostly of meat lovers) to try something new.
4. WMF: "Sharper Than You Think"
The best examples of print advertisements use a small amount of space to say something big about their product or service. In this print ad from WMF advertising the WMF Grand Gourmet knife, the company does just that. Playing on the frustration of using a dull blade that many of us know all too well, WMF uses an effective tagline ("Sharper than you think") paired with eye-catching imagery to make a big statement about its product. Now that's sharp!
5. Sea Shepherd Conservation Society (SSCS): "You Eat What They Eat"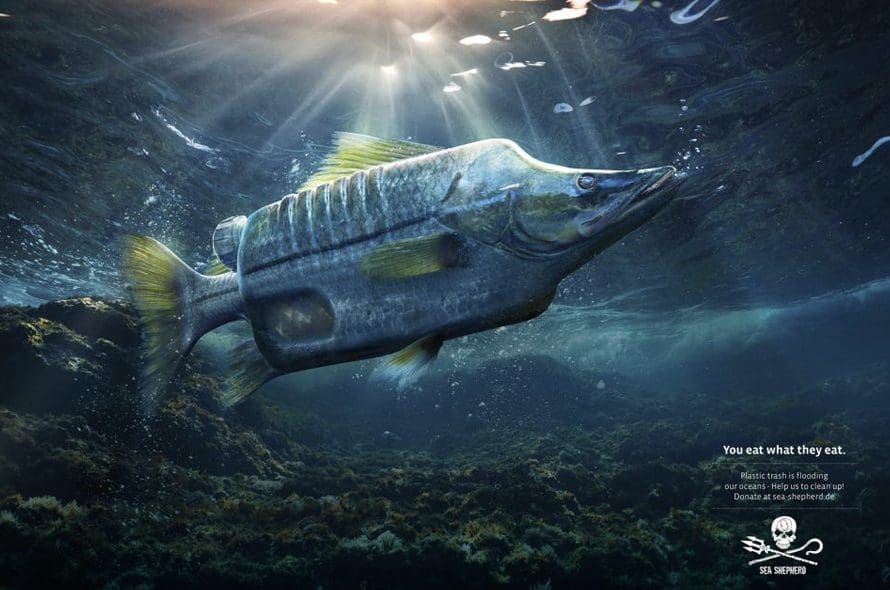 The amount of plastic dumped into Earth's oceans is so enormous that many of us probably don't even want to think about it. As this print ad from Sea Shepherd Conservation Society conveys, however, we should. This print ad campaign spotlights a number of different fish misshapen and deformed from swallowed plastic with the tagline "You eat what they eat". This print ad grabs your attention before encouraging you to donate to Sea Shepherd, and we're willing to bet this powerful use of imagery was the catalyst for a boost in donations.
6. McDonald's: "Open All Night"
Sometimes a minimalist approach to print advertisement is well-warranted, especially for brands with easily recognizable logos. When McDonald's crafted this print ad, they knew how to take the legendary golden arches and apply them in a creative way that made a point at first glance. With the simple tagline "On Your Way All Night Open", the image shows the "M" logo becoming streetlights, reminding consumers that McDonald's is always open to serve them.
7. French Ministry of Health: "Children Obesity"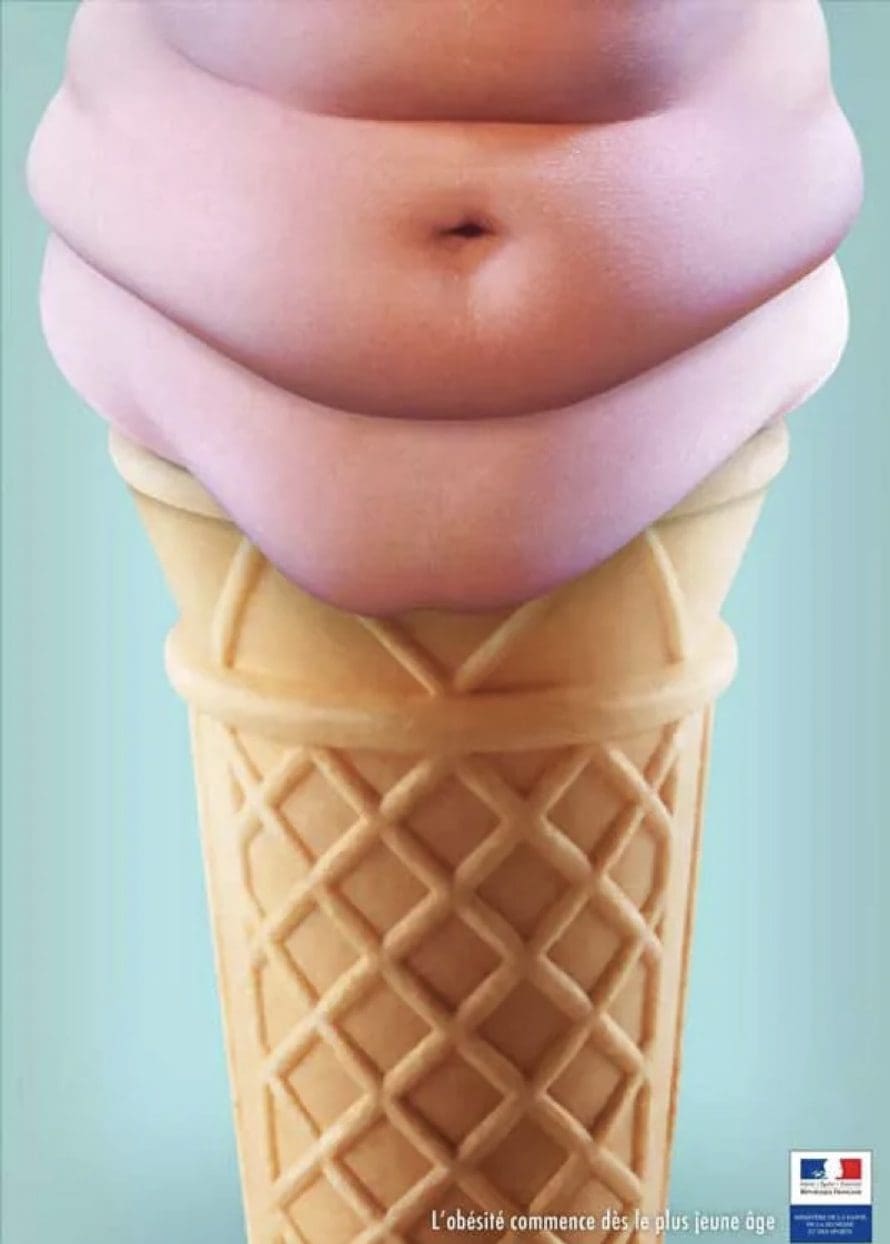 It's clear that the French Ministry of Health knew exactly what they were doing when they designed the illustration used in their print ad, "Children Obesity". In wanting to spread awareness of the growing issue of childhood obesity, the ad states that "obesity starts at a young age." Plain yet effective, this illustration depicts an ice cream cone in the shape of an overweight belly. What is most interesting about this print ad is that it uses cheerful and bright colors to send a warning to parents that is less than joyful. This draws the attention of their intended audience while promoting an important message all at the same time.
8. Keloptic Print Ad: "Van Gogh"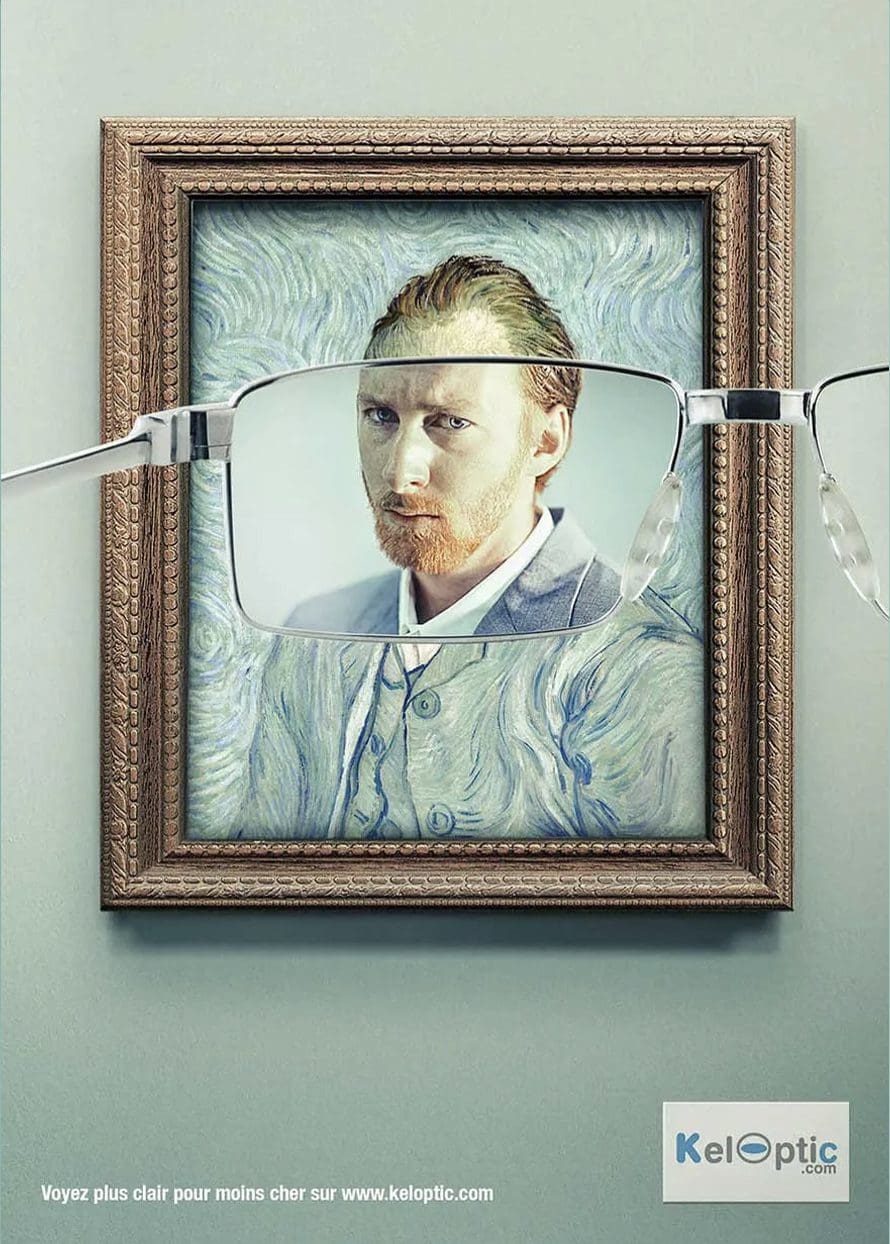 In this print ad from online optician Keloptic, Van Gogh's post-impressionist self-portrait is used as a fantastic means of brand promotion. This particular portrait from the legendary artist is well-known for its use of a blurry color scheme, something not distantly related to blurry vision. Keloptic uses their eyeglasses to cleverly promote the power of their product, revealing a crystal clear depiction of the late artist. Again, simple yet effective.
9. PNET: "A Better Job Is Waiting"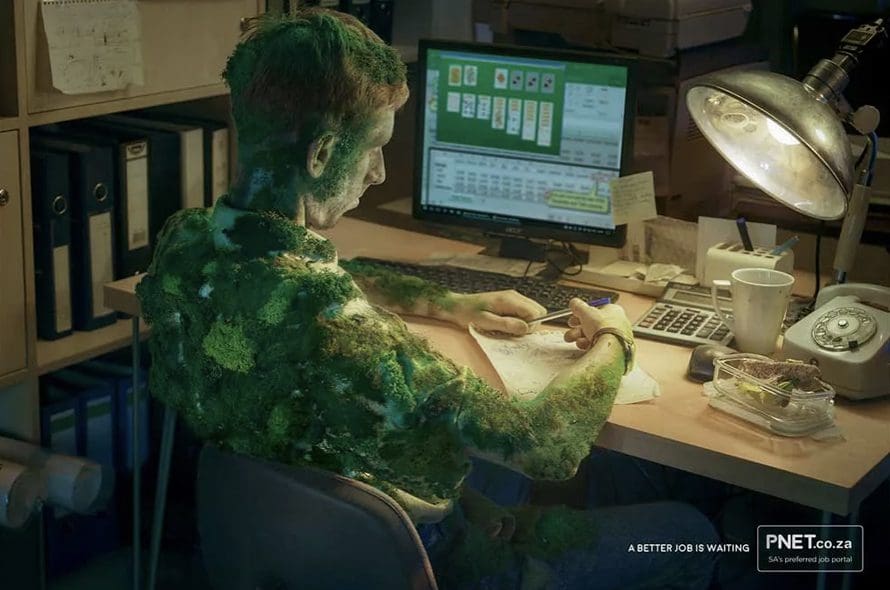 PNET, a job recruiting platform, created this wonderful example of print advertisement to tell people that they don't have to feel planted in place at a less than a rewarding job. For anyone who has ever felt trapped in an unfulfilling career, the imagery used in this ad is instantly relatable. The print ad goes a long way in making its intended audience feel seen, all while encouraging them to take the desired action of applying for a new job.
10. Opel: "SMS Mistype"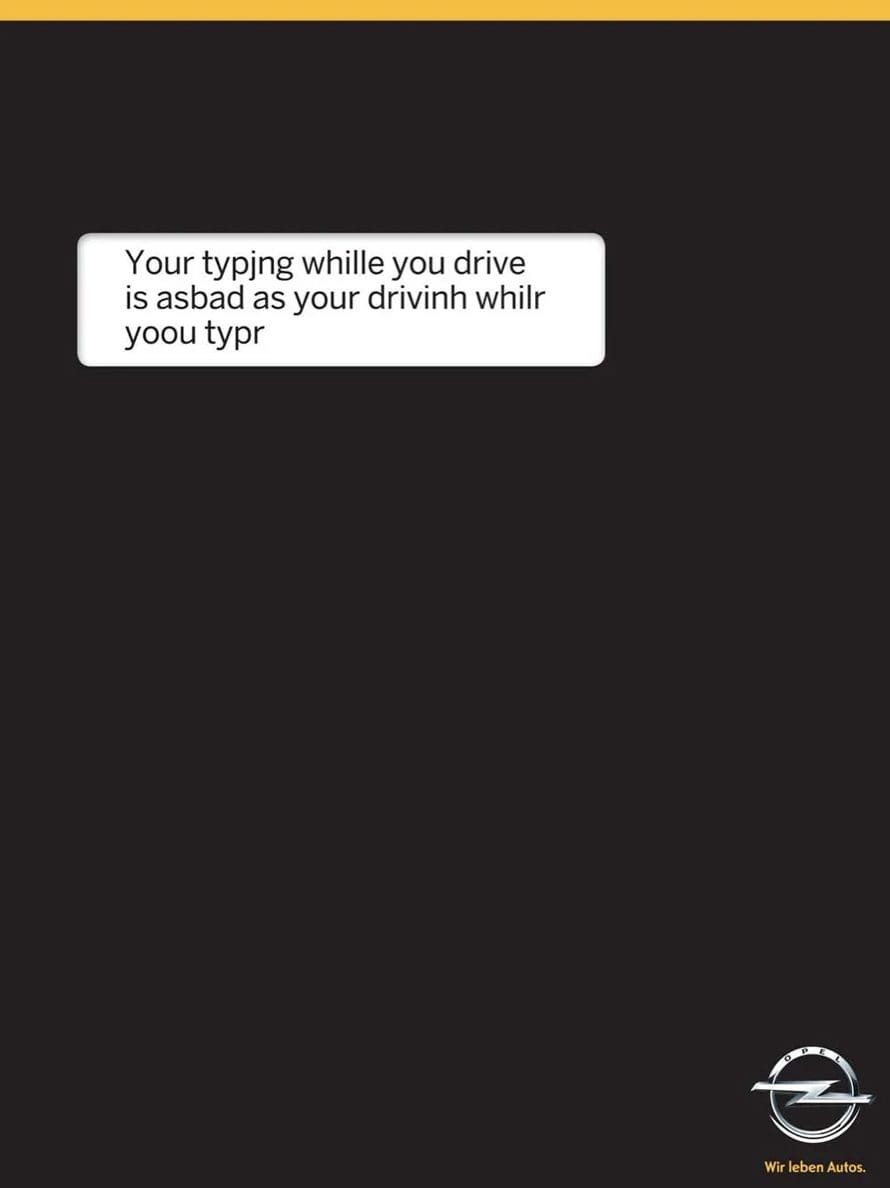 In our final example, we see an example of a road safety campaign in the form of a print advertisement from Opel. While road safety advertisements have become increasingly common, what makes this ad different from the rest is its use of nothing more than a black background and a short line of text to make a very understandable statement. This type of effective use of print advertising goes a long way in making us think twice before texting while driving again.
Print Advertising Experts For Your Business
Now that you've explored our top 10 picks for some of the best print ads of all time, you may be wondering how you can create a print advertisement that is just as impactful. Look no further than our print advertising experts at Davant Indy!
At Davant Indy, we specialize in a variety of services designed to boost sales, increase brand awareness, and create the image of your company that you'd like to convey. We know that every business is unique, and our team will take the time to get to know you and your mission. From there, we'll work alongside you to design, print, and promote your business. While the print ads we've provided as examples in this article can set you on the right path, we know that creating print advertisements that inspire your desired action isn't always simple. When you work with our team, the process couldn't be easier!
Contact us today to learn more about what we can do for you!