If you are looking for ways to make an impression, banners can be an excellent choice. Although the digital era has given us popular choices like electronic displays, LED signs, and LCD monitors, banners still rank as one of the easiest and most efficient methods to draw attention to your company or event. They're also cost-effective, reusable, and need little upkeep.
Choosing the correct type of banner for an event or business can be tricky, but with Davant Indy, it does not have to be! We want you to effectively advertise your business by investing in the correct type of banner. So, which type of banner is right for you? Let's find out!
What Is a Banner?
Banners are long strips of material, typically textiles, imprinted with various messages. Although the definition of a banner states that it is made of cloth, today's banners can be constructed of various materials, each with varying degrees of thickness, flexibility, and durability. And they're often used to bolster announcements or campaigns that you have.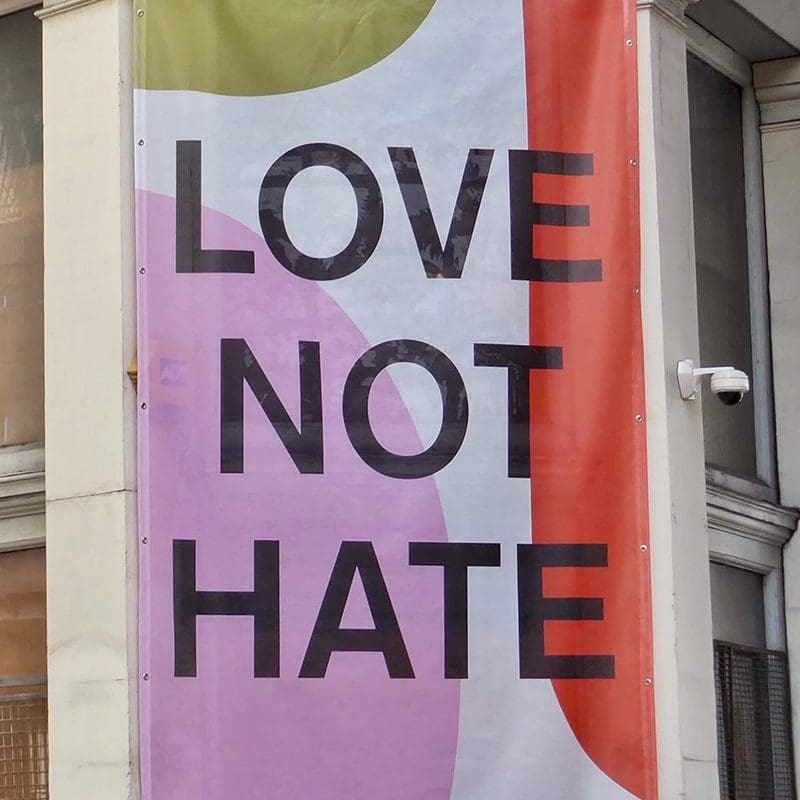 The Different Types of Banners
Fabric Banners
Fabric banners, often made of satin or polyester material, allow for incredible illustrations in full and bold colors. Unlike vinyl banners, this kind is wrinkle-resistant, lightweight, sturdy, and machine-washable. With their vibrant printing, high opacity, and excellent material quality, these kinds of banners are often visible and readable from a distance. They can be hung in front of a table, on a wall, or on a stand to draw in potential customers from afar.
Polyvinyl Banners
PVC is an incredibly versatile, solid, colorful material, and it can be used indoors and outdoors. The vinyl component allows for a matte, smooth surface that prevents glare and reflections, making it easier for people to see your message. They are also tear-resistant, although they can be pretty heavy compared to their fabric alternatives, which makes transportation difficult.
Mesh Banners
Mesh banners are semi-transparent and are used as a temporary barrier or to highlight where the divide between pedestrians and work zones begins and ends. This banner type is ideal for areas with persistent and strong winds, such as the beach, because of the small holes in the fabric. They are frequently used for extra-large signage purposes on shops, building facades, or even as whole structural covers.
Types of Banners by Style
Retractable and Pull-up Banners
Retractable banners, often called pull-ups or roll-ups, are visually appealing double-sided banner choices for individuals who do events or require store signage. They're often made of vinyl, which is durable and long-lasting, and they're attached to a sturdy aluminum base. They are typically six feet tall and can be customized in width, although pull-up banners can't be designed wider than five feet. As their name suggests, you can also roll them up when you want them out of the way.
Step and Repeat Banners
This type of banner can be customized to fit your project's needs and will display your company's name or logo. These have a repetitive pattern of a design of the brand and logos promoting the event, but not to the point of becoming distracting. It effectively promotes your company or service during special events, meetings, workshops, and presentations. The stands collapse, and the banners can be washed, allowing you to reuse them.
Backwall Displays and POP Displays
These banners are usually made of fabric. And they're frequently used to cover the whole back of an exhibition's shell. These types can usually expand far more widely than retractable banners due to their robust support. Although installation is not as simple as with a pull-up banner, it should only take a few minutes o set up and take down.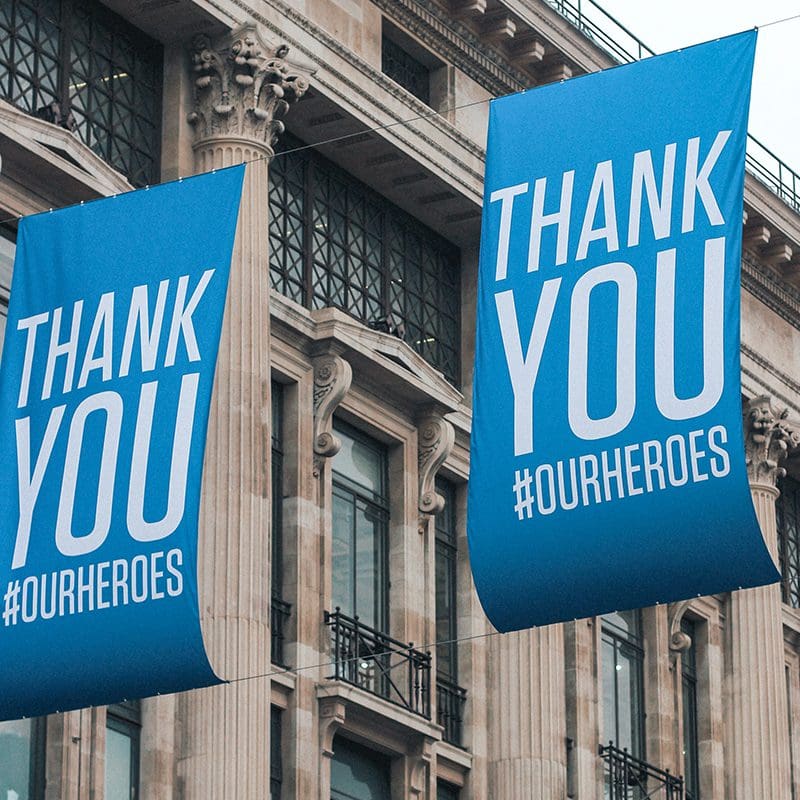 Hanging Banners
Hanging banners are a great way to display above the crowd for more promotional impact and visibility. This type of banner is great for promoting festivals, trade fairs, grand opening celebrations, parties, announcements, and more. Another advantage of this banner type is that you can cut the hanging banners into any shape you prefer, such as triangles, circles, or diamonds.
Pole Banners
Outdoor pole banners or boulevard banners are displayed in the streets or boulevards as an advertising tool. This is used to promote festivals, concerts, and other similar events. However, you can also use it for other purposes, such as decorating college boulevards, advertising retail spaces like shopping malls, and coloring casinos, hotels, and entertainment spaces.
Pole banners are typically printed in square or rectangular shapes on durable vinyl material. They can be mounted using hardware kits that allow the banner to be attached to a pole, usually street poles with two extension arms or brackets.
Display the Message You Want with Davant Indy!
Choosing a print provider to meet your expectations and bring your ideas to life is essential when designing your banner. At Davant Indy, we have a team of dedicated print professionals. Whatever you need, we can help you design and print the perfect banner for your Central Indiana business. We specialize in various designs and a wide range of printing services and are happy to help.
Contact us today for our printing services!
Photo by ASIA CULTURECENTER on Unsplash
Photo by Belinda Fewings on Unsplash
Photo by Kutan Ural on Unsplash