Creating a strong brand is one of the most important things you can do to build your business. But many people never think about how their company logo can be used aside from just representing their company. Whether it is on an envelope, a business card, or in a water bottle, your logo creates brand retention among your customers and tells them what to think of your brand and how they can reach you. It is important to know as business owners the role of your logo when using print media so that you can successfully represent your business. Here are several creative ways Davant Indy can help you spread your company's logo. 
Get Creative! Print your company logo on these 7 things
It's no surprise that your company logo is a significant part of your business. It's the face of your business and gives the first impression to potential customers. This is why it needs to be seen by as many people as possible. And what better way to do this than getting it printed on different items? 
1. Stationary
When you're looking to build brand recognition, put your company logo on stationery items. When you order printed materials, like business cards and letterhead, you can ensure your business makes a lasting impression on potential customers or partners.
Business Cards 
Your business cards are one of the most basic forms of advertising for your business. So, it's important that you utilize them to their fullest potential. Not only should your logo be printed on them, but also your website and contact information to encourage people to reach out to you.
Envelope
Printing envelopes with your logo is a great way to add professionalism to any piece of direct mail or marketing material that you send out. It also helps people identify who is sending the mail and makes it easy for them to get in touch with you. 
Posters
Posters are a great way to promote your business and stay top-of-mind with customers and prospects alike. They're also an affordable option for small businesses because they don't cost much time or money! In addition, you can print posters in bulk and distribute them at trade shows and events in the community.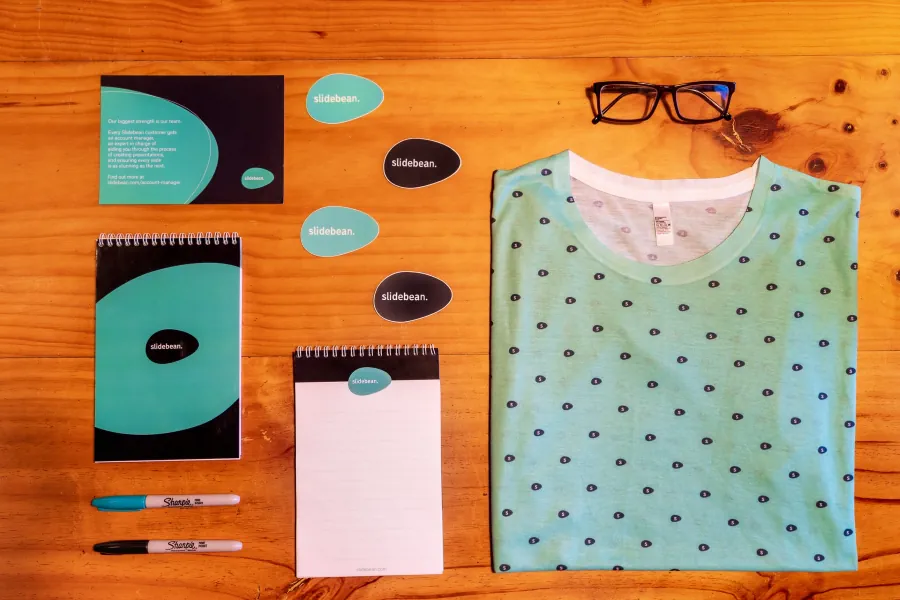 2. Clothing
T-shirts, polo shirts, hats, hoodies, and socks are the most common clothing pieces to put your company logo on. You can design custom t-shirts and polo shirts, custom tote bags, and others using the following printing methods on clothing: 
Embroidery
Embroidery is the most popular method of getting your logo on clothing. It has a professional look and feel and is versatile enough to work on almost any type of apparel. In addition, you can custom design embroidery with any color, and color scheme, which makes it perfect for logos of all custom shapes, sizes, and styles. 
Screen printing is the best option for large orders of one or two colors. It's more affordable than embroidery per shirt when you buy in bulk. Screen printing is the perfect choice when you need to print a lot of custom T-shirts, polo shirts, or other garments. 
Transfers
Transfer printing is another common method for clothing. With transfer printing, you print your logo onto special paper using an inkjet printer, then use heat to transfer the paper to the shirt. 
3. Logo on Packaging
If you are a business owner that sells products or clothing, printing your logo on labels, tags, and packaging is a great way to make lasting impressions on your customers. 
Boxes
Printing your logo on custom boxes is a wise investment for businesses of any size. Boxes help project a strong brand image, build customer loyalty and appreciation, and encourage repeat purchases. 
Bags 
Bags are a simple way to personalize your packaging. Packaging bags can be printed with logos, slogans, or images with just one color up to full-color printing.
4. Swag
Unique swag and products are great ways to promote your brand because it makes an impression. Printing your logo on these makes a tangible reminder of your company that people can hold onto and use every day. 
Bottles
If you are a gym or sports-related company, you can print your company logo on water bottles. Not only will the water bottles stand out, but your customers will also unintentionally advertise your product whenever they go to the gym. 
Towels
Towels are an essential part of our everyday lives, and they can easily be a walking advertisement for your business. Thus, printing company logos on towels is a great way to market your business. 
Signs can be one of the most effective tools in your marketing arsenal. This gives your company name and logo maximum exposure in the offline world, which will help you gain more recognition for your brand. 
Sidewalk stand 
Sidewalk signs can easily be placed in front of your store or office space to inform people that they have arrived at the right place. If you want to promote temporary specials or sales, sidewalk stands are a great tool for that too! 
Billboard
Billboards are a classic form of advertising that will get your name out there and make sure people know who you are and what you do. Billboards tend to be huge, so if your logo is in a small picture file size, it will look blurry and unprofessional. Make sure your company logo file size is compatible with billboard printing and display.
6. Office Supplies
Promotional products like office supplies are a great way to get your logo out there and make your business known. And the best part is they don't have to cost much!
Notebooks
Custom notebooks can be used in a variety of ways. They can be given away to customers at trade shows or as thank you gifts for purchases. Employees can use them as well. In fact, they're perfect for taking notes during meetings or recording new ideas. 
Pens
Printed pens are also useful because you can gift them to customers or employees. Pens are also very cost-effective. They are cheap to buy in bulk and simple to customize with your company name and logo. 
Stickers
Stickers are a great way to promote your brand because they can go just about anywhere. For example, custom logo stickers can be used for direct mail campaigns by placing them on envelopes or by giving them away at events.
7. Metal 
Print your company logo on metals for a durable and unique branding solution. Logos can be printed on metal products by dye sublimation or laser engraving, and the good thing about this is your logo will not stretch or be distorted. 
Travel Mugs 
This is the perfect giveaway for clients who are constantly on the go. They'll be able to bring these mugs wherever they need to go and will have a constant reminder of your brand every time they reach for them.
Stainless steel cups
Stainless steel cups are some of the highest quality drinkware products available. These are also great materials for printing. Not only do they look great, but they are durable and are sure to last for many years.
Want to print your company logo on some new apparel, stationary, or signs? Then contact Davant Indy today! Our designers will help you with all your printing and graphic needs. Dial (317) 849-6565 today.