Photo Credit: https://unsplash.com/photos/9LfcAIYcl9o
We are so thankful for the blessings we have.  We have a wonderful place to work and great clients to serve.  We live in the greatest country ever.  As I look back on the past year, there have been so many blessings for which to be thankful.  We look forward to the holiday season and the unfolding of a new year. Here are some great ideas for friends and family gatherings that we strive to live out as we enter this most wonderful season.
1. Serve and share.  
There are many opportunities to serve and give in your community.  Find what works best for your family and you will find that as you serve and share with others, it serves as a reminder just how blessed you are.
2. Cook with your kids.
Kids love to help! Yes, it takes more time and may be a little more messy, but the memories you will make will be so worth it.
3. Grace.
Offer grace for the meal.  Saying a prayer is a great way to start your meal and gratitude is something we all can share.  Try having each person at the table say what or who they are most grateful for this year.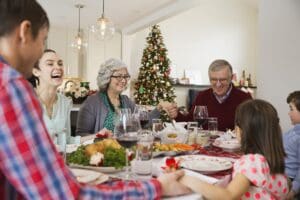 4. Disconnect from technology.
Holiday gatherings are a great excuse to be fully focused on the people surrounding you.  No need to check email or work.  Listening intently to what your parents, kids or friends are saying is such a wonderful way to live in the moment.  After disconnecting during meals, or even for a whole day with no distractions, you will see how rewarding it is to truly be present.
5. Love on purpose.
Make an effort to be kind and intentional in how you act with others, especially family.  Holidays can be hectic and stressful, but focus on what you appreciate and admire about those around you.  Share that with them and encourage them.  They will appreciate it and you will, too.  When you say kind things and are nice to others, it helps change your own personal outlook and attitude into something more positive and happy.
We look forward to embracing this wonderful season with you!